Shopping Basket
Your Basket is Empty
There was an error with PayPal
Click here to try again
Thank you for your business!
You should receive an order confirmation from Paypal shortly.
Exit Shopping Basket
HIMALAYAN BOWL AND CRYSTAL BOWL SOUND PRACTITIONER ,​TANTRIC MASSAGE THERAPIST, SOUND HEALING , ENERGY HEALING NEWPORT PAGNELL, MILTON KEYNES, BUCKINGHAMSHIRE​
| | |
| --- | --- |
| Posted on 27 March, 2016 at 9:50 | |
Tantra Massage – A Reunion Party
How many of you reading this are feeling that despite following all the rules laid down for us paying our bills, working hard, obeying and subduing our inner longings that we are collectively dissatisfied. The western concept of " Having it all " consume and you will be happy, look like this and you will be happy etc.. is a misconception , anyone that tells you how to feel or be is not cultivating your happiness, compassion, unity or self-love. This is your personnel responsibility to become aware of and reconnect to your inner guru, your soul or spirit, the essence of you , the real you.
There has never been a time that you have been separate from your soul you are already on a spiritual path, that journey began when you were born to this world, it is impossible to separate from your spirit, it's just merely that you have lost that connection . You will not find deeper happiness in a relationship and obtaining stuff, lasting peace and happiness in our lives comes from the consciousness and awareness of ourselves and others as one.
Tantra massage is one way that the body, mind and soul all re-connect , a reunion party ! Here in the space of peace and deep connection can the soul speak to you and remind you who you are . Each soul in the world knows we are all here to help each other to remember and wake each other from the sleep of illusion.
All beginnings in life, the roads and signs that answer the call of our soul should not be ignored , the soul is the essence of all humanity embodied , it knows everything and guided you to read this and enquire further.
" The great awareness comes slowly , piece by piece. The path of spiritual growth is a path of life long learning. The experience of spiritual power is basically a joyful one" M Scott Peck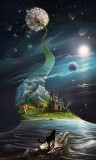 Categories: None
/